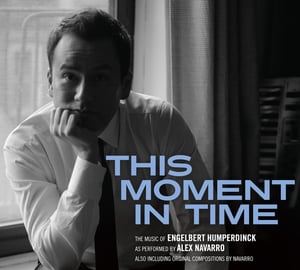 $

15.00
On his sophomore album, Peruvian-born pianist, Alex Navarro, explores the songbook of legendary balladeer Engelbert Humperdinck. Having served for over five years as music director and credited as pianist and arranger on several albums for Humperdinck, Navarro blends his personal knowledge of the catalogue with his introspective approach to the piano. Almost three years removed from his debut album, Closer Than You Think, and marking two years since his move from Orange County to Manhattan, Navarro reflects on his transition and period of growth through original compositions included on the album. Follow Alex Navarro as he offers a personal reflection into "This Moment In Time."
Tracks:
1. After the Lovin'
(Ziegler / Bernstein)
2. This Moment In Time
(Bernstein / Adams)
3. The Hungry Years
(Sedaka / Greenfield)
4. Outside My Window
(Navarro)
5. Two Different Worlds
(Frisch / Wayne)
6. A Man Without Love
(Livraghi / Pace / Panzeri)
7. Gregarious
(Navarro)
8. This Is My Song
(Chaplin)
9. Echos In An Empty Room
(Navarro)
10. The Last Waltz
(Reed / Mason)
11. Please Release Me
(Miller / Williams / Yount)
12. We'll Meet Again
(Parker / Charles)
Please note shipping prices are for USPS Priority Flat Rate padded envelope for single disc, small box for multiple discs up to 4. Larger quantities will be charged in accordingly.